Way back before anyone had heard of Covid-19 we pitched to make a suite of videos for Walsall For All (Walsall Council), a programme and long-term strategy for creating strong and integrated communities in Walsall. The audience for the films was to be those living, working and studying in Walsall and in particular the team were keen to engage with settled communities; women; elderly residents; newly arrived; disabled communities; LGBTQ+ communities; young people; and non-English speaking residents.
Aims of Video Campaign
To raise awareness of the Walsall For All programme among those living, working or studying in Walsall.
To inspire individuals and groups on the themes of integration and cohesion and engage, enable and empower them to be part of the integration journey.
To showcase the positive work happening across Walsall to bring communities together.
To celebrate Walsall as a diverse borough and as a whole.
The Walsall For All team were keen to use poetry in the videos and asked us to do some local research to find out what themes were important to the people and organisations involved in the initiative. We contacted almost 40 organisations and conducted 15 detailed interviews. The resulting report on our findings enabled us to agree the tone and main themes of the films: The Town That We've Built and Welcome to Walsall.
Our next job was to find the perfect poet! Former Walsall Poet Laureate Peace had already taken part in our research and turned out to be an excellent fit. Using our research findings, we produced a brief for each of the films' poems, and Peace delivered two exceptional pieces of work.
Continuing our collaborative approach, we planned to meet the Walsall For All team to begin storyboarding our creative proposal. On a project like this, based on place and with such a strong vision from the commissioning team, sharing knowledge and ideas is really important. We put a date in the diary.
And then the nation went into lockdown!
Several months later, we picked up the conversations, but this time online! Internally the Method team use Slack to communicate and share updates. Using Microsoft Teams or Zoom for meetings with clients has now become common practice, but we needed a mechanism to recreate a storyboarding session and found Miro, the online collaborative whiteboard platform to be accessible and intuitive, allowing everyone to suggest ideas and work together at a time convenient to them. The resulting storyboards were produced and a filming schedule, involving many of the organisations we'd spoken to in our original research, was prepared. Many venues were closed and some organisations had suspended or re-focussed their work. The ones that were open were operating within restrictions. Most were potentially about to close again under threat of a second lockdown, so we moved quickly!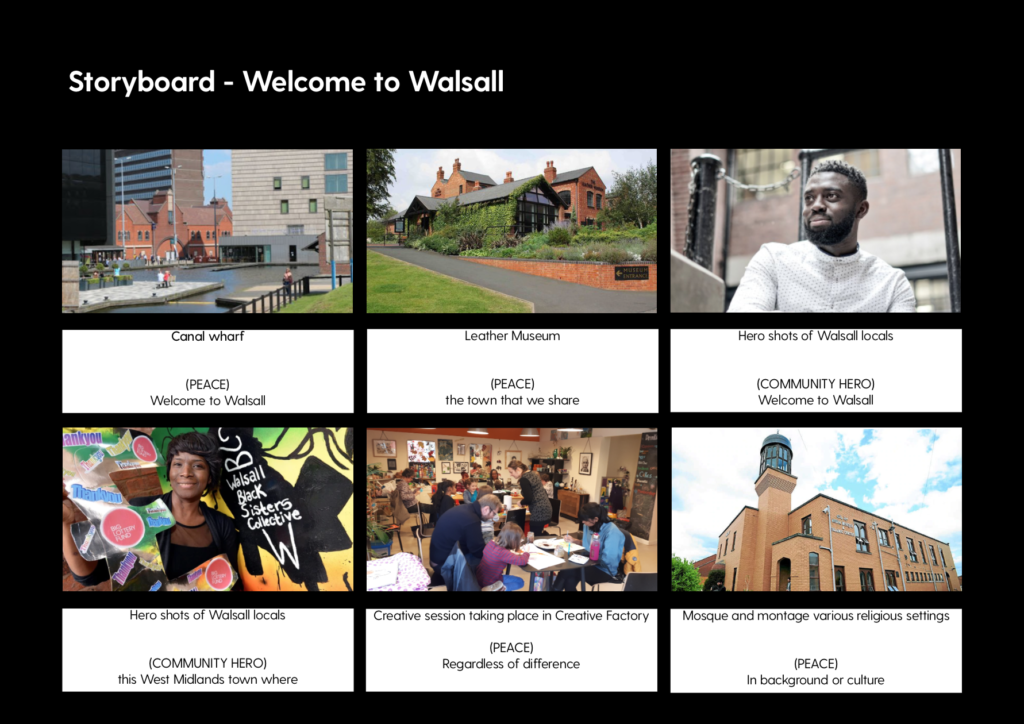 Production
There were some ideas we'd thought of as key at the beginning of the project and the restrictions meant we had to rethink the creative and work around the new situation:
People
Our vision was to have people at the centre of the videos, particularly individuals interacting and crowds gathering. The pandemic put an end to that for the most part, but using hero shots throughout both films we made sure the people of Walsall were always front and centre. Originally we had planned to link the different narrative set-ups in The Town That We've Built but that would have involved moving people around and so we filmed a series of quick transitions to get us from place to place.
Narration
We asked Peace to record the poems as his voice was identifiably local to Walsall and also, having written the words, he had a deep understanding of the intention. As many communities speak English as a second language in Walsall we also decided that several key lines in the 'Welcome to Walsall' film should be voiced by other contributors in their own language. This worked in terms of the film speaking directly to many newly arrived communities and also added a point of difference and interest to the simplified film structure. We were also keen to include sign language and took some extra time to find deaf contributors who could sign Peace's words.
Locations
Ensuring the health and wellbeing of our crew and contributors was a priority so we took all recommended precautions, employing masks, hand sanitisers and social distancing. With just a director, camera operator and producer on our 4 day shoot, we were able to cover 20 locations and film more than 100 people, safely.
Finally, Peace recorded the VO, music was chosen to build emotional weight throughout each video, the edit, graphics and grades (complete with some trickery to bring a few dying plants to life!) were completed and our Walsall For All films, including an additional social short, were delivered, to amazing feedback!
"Method in Motion are an exceptional company to work with. Staff and crew are knowledgeable, experts in their fields, supportive and professional. We worked with them on producing a number of community films for the Walsall for All programme and the process was very smooth from start to finish. Understandably, COVID-19 did create some barriers at first to making progress with the films, but we were all able to work around this and the team still produced high quality content."
Charlotte Gough, Walsall For All
Working with the Walsall For all Team was a complete pleasure and we're happy that we were able to establish and maintain such a good working relationship from the start and deliver what we think are some excellent films, despite all the additional challenges this year.
The films will be used across all Walsall For All platforms and we're looking forward to seeing how the people of Walsall react!